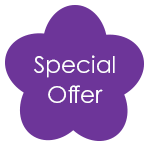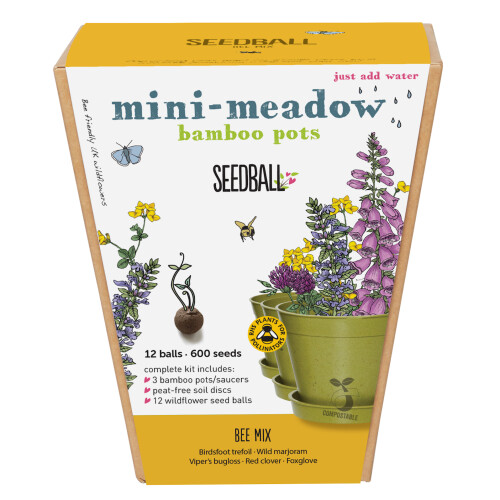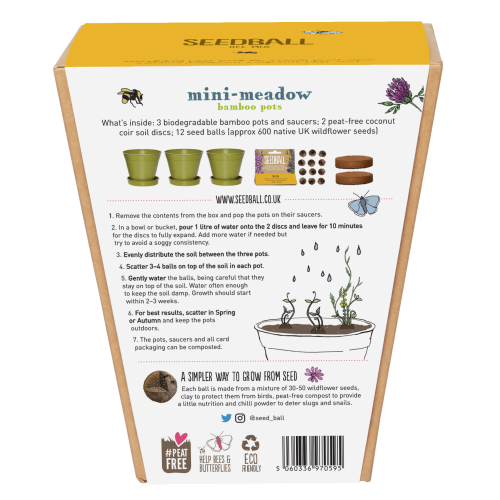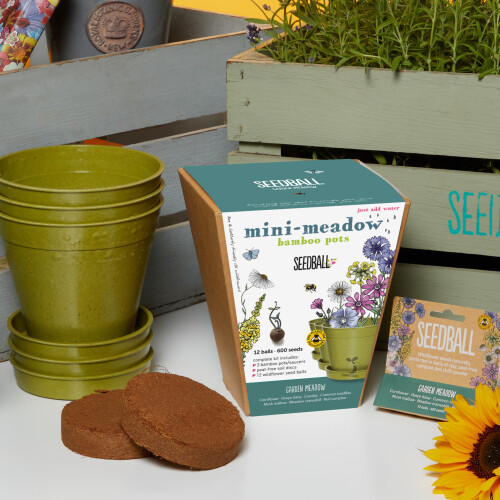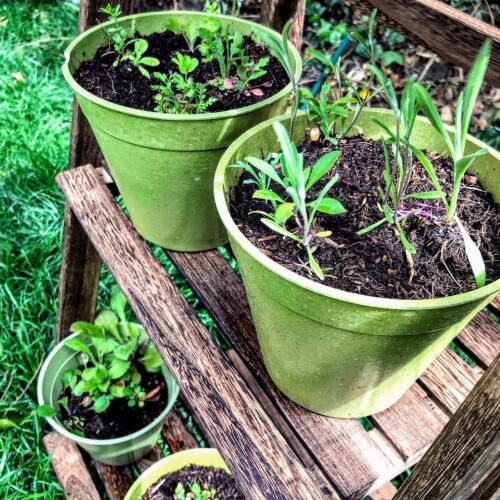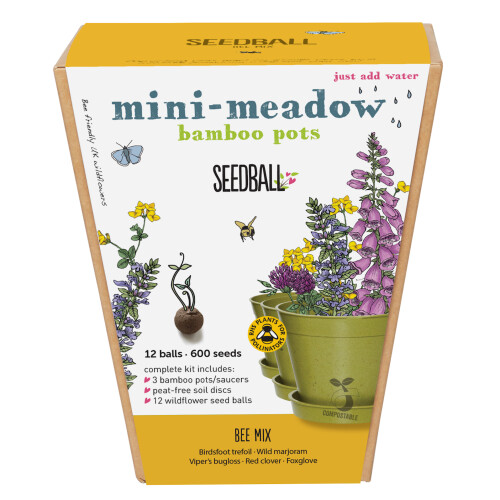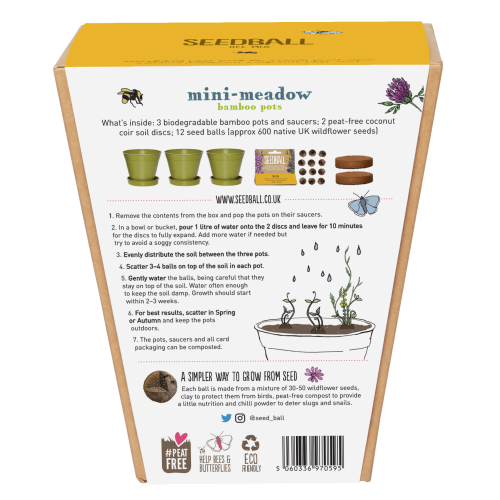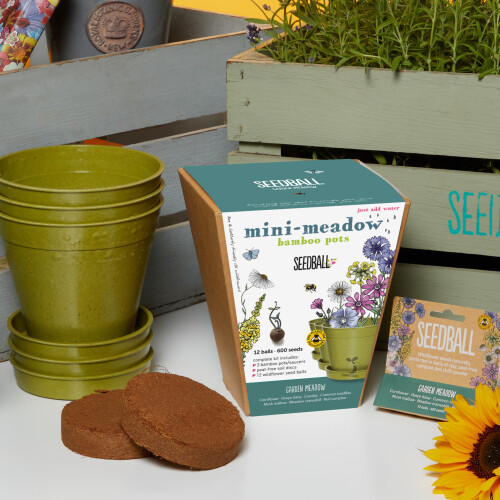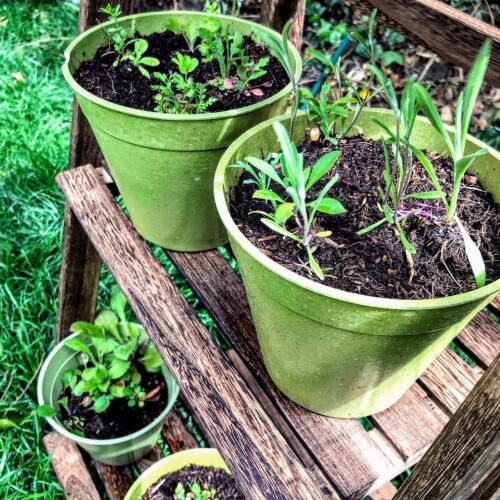 What's Inside?
An all in one gift set for anyone who loves wildflowers and garden wildlife. Everything you need is in the box, all you need to do is add water ♥
• A set of 3 biodegradable and compostable bamboo pots and saucers
• Peat-free coir discs
• 12 wildflower seed balls (in lovely new packaging!)
• Choose from Garden Meadow, Bee Mix or Butterfly Mix
• Full instructions on how to use
• Each unit is 16cm x 16cm x 19cm. Weight: 1.2kg.
The pots are best positioned outdoors, on a windowsill or garden table for example, and can be set up at any time of the year (although early Spring and Autumn are the very best times to start). All cardboard packaging (including the Seedball packs) are made from 100% recycled card and vegetable inks and can be safely composted. The coir discs are made from the natural fibres found on the outer shell of coconuts which expand when water is added, turning into a great growing medium. The sets are available in three varieties: Garden Meadow, Bee Mix and Butterfly Mix (see seed details below), and include full instructions of how to use on the back of the box.
BEE MIX
A mix of native wildflowers that bees will just love! This carefully selected mix is designed specifically to attract solitary bees, honey bees and bumblebees. Each seed ball contains approximately 30 seeds from a mix of Birdsfoot Trefoil, Foxglove, Red Clover, Viper's Bugloss and Wild Marjoram – all recommended as bee-friendly plants by the Bumblebee Conservation Trust. We've also added a sprinkling of pollinator-friendly annuals Chamomile, Cornflower, Corn marigold, and Night-flowering catchfly.

Birdsfoot Trefoil (Lotus corniculatus)
A perennial with clusters of yellow/orange pea like leaves.
Height: 15-25cm
Flowers: May to October
Lotus corniculatus is such a sunny little thing, why not try it mixed into your summer baskets and patio pots?

Foxglove (Digitalis purpurea)
A tall biennial (flowering stem grows in the second year) with pink and purple flowers on spikes.
Height: 60-150cm
Flowers: June to September
Toxicity: Poisonous if eaten
Foxgloves are a really good 'bridging plant' as they bloom late May-June, a period when the bulbs have finished and the summer perennials are yet to be at their best!

Red Clover (Trifolium pratense)
Perennial with trefoil leaves and pinky red flowers. Good weed suppressor.
Height: 10-45cm
Flowers: May to September
The trifolium can help to break up heavy soil over time, plus it adds nitrogen to the soil, meaning healthy plants all round!

Viper's Bugloss (Echium vulgare)
A tall biennial (flowering stem grows in the second year) with incredibly blue flowers emerging from pink buds.
Height: 30-90cm
Flowers: June to September
If you're looking to do something a little different with your echium, why not try growing a low blue hedge with it, or scatter it amongst paving slabs to soften the landscape and add a punch of colour.

Wild Marjoram (Origanum vulgare)
Aromatic perennial with dark purple buds and pinkish purple flowers.
Height: 30-60cm
Flowers: April to November
The Wild Marjoram is not only a wildflower, but can also double up as a pretty damn tasty pizza topping, along with your very best sweet tomatoes!
Seedball Bee Mix also includes a sprinkling of annuals Chamomile, Cornflower, Corn marigold, and Night-flowering catchfly