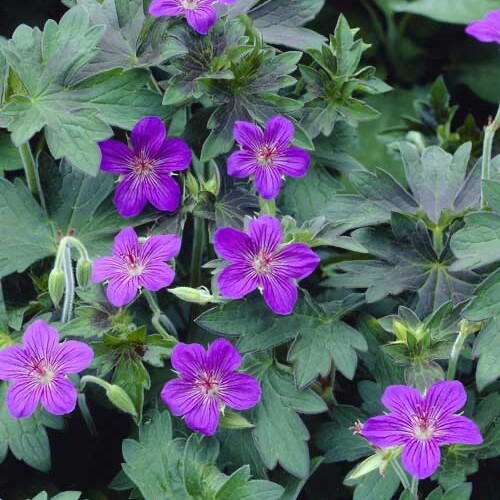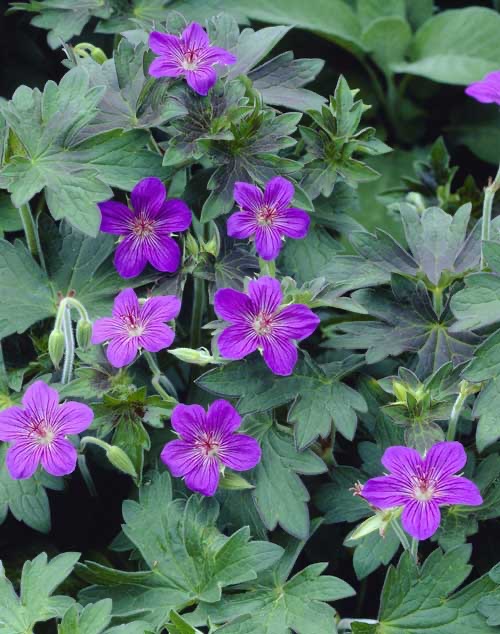 Key Features: Striking purple-blue flowers which are borne among wonderfully architectural, copper-blushed, downy, mid green foliage. This is a plant worth growing just for its leaves. The flowers are a massive bonus. If the weather's right, the foliage can offer blazing oranges and reds in autumn too.
Height x Spread: 24 x 36 inches (60 x 91 cm)
Preferred Aspect: Sun / Partial Shade
Flowering Period: July - September
The wlassovianums have simply the most wonderful foliage. Their flowers are delightful too, but they are one Geranium worth growing for their foliage alone. The leaves are very architectural in shape, copper blushed, and they feel lovely too! They will sprawl and clamber through a border, issuing pops of purple colour as they go. And then in autumn, given favourable weather conditions, their leaves turn the most riveting shades of yellow, orange and red, creating a fiery autumn display where they have landed. They are late flowered, so if you're looking for some late summer and autumn colour, they are a fabulous choice. They are very strong growers too, and therefore ideal for complete novices. They cope well in a variety of situations, except perhaps problematic dry areas where their large, thirsty leave would wilt. Overall, they are underrated and well worthy of a place in the garden.
Hardy Geraniums are one of the most diverse genera of herbaceous perennials. It is possible to find a Geranium to suit most parts of your garden, from the vast range of species and varieties available. They complement most other plants beautifully and, chosen wisely, can provide a continuation of colour in the garden from spring through to early winter.
Please note that the heights, spreads and flowering periods mentioned are approximate, as they can be affected by your soil type, light levels and other various conditions that may surround the plant.